ACI's Personnel Cleaning Booth is an effective solution to clean worker's dirty work clothes without exposing th
em, their co-workers, or the work environment to elevated dust levels.
The cleaning booth provides a safe and highly effective means for removing and extracting and/or collecting residue (such as dust and fibres) from people. The powerful air flow produced by the integrated JetBlack and the method of extraction means the booth is a completely safe solution.
Incorporating ACI's JetBlack Cleaning Station, the advantage of the Cleaning Booth is that workers, without removing clothing/PPE equipment, can simply enter and operate the booth.  Within approximately 20 seconds all visible traces of dust removed can be removed from clothing.  The high velocity, low pressure airflow produced by the JetBlack dislodges even hidden dust. The dust is then captured and filtered within the extraction unit.
Simple, efficient operation and lightweight construction - the Cleaning Booth is a very effective unit for dislodging all dust from employees clothing, and is considerably easier on the user than vacuum solutions. It provides a quick and effective solution where the entire body is completely clean from any harmful dust.
Companies and industires World-wide are discovering that the cleaning booth is an essential tool for workers safety in dusty environments:
Fibreglass Boat Manufacturing
Mining and Quarrying Operations
Industrial Minerals Processing
Construction Sites
Cement and Plasterboard Manufacturing
Metals Recycling and Refining
Paper Manufacturing and Processing
Textile Plants... and many more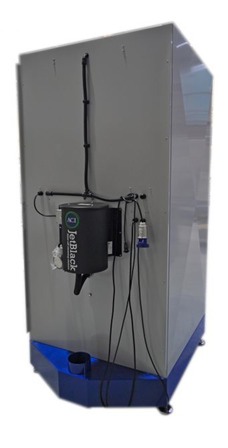 Features include:
Down-flow air movement - blows air off worker and into galvanised steel floor mounted grate
Standard system delivers high volume (500ft/sec, 58CFM), low pressure (2.52PSIG, 70In.Swg), clean and filtered air. Please note - a further choice of cleaning power includes Air knives with high velocity blower
Maximum pressure with nozzle blanked (5.36PSIG, 148.5In.Swg)
Modular construction
Interior powered lighting
Entry/Exit door hinged, powder-coated metal with makralon window
Choice of extraction units to choose from
For more information click here.