Air Knife Drying Systems are blower-driven solutions that will increase production efficiencies and save significant running costs.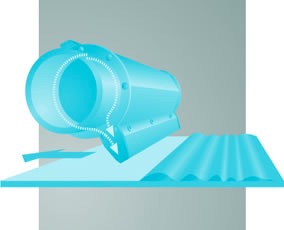 Powered by a centrifugal blower unit, an Air Knife System is a low-pressure, high-volume air production tool that has been designed specifically to blow-off all surface liquids and moisture that may be present on a conveyed product.
When compared to compressed-air-driven nozzle systems, Air Knife Systems are:
More cost effective to operate - operating costs are reduced by upto 90% potentially saving '000's per year
Quieter - due to lower pressure operation, the expansion ratio and turbulence of the air produced is reduced
Cleaner - the air from the blower is both dry and oil free so there are no additional filtration is required
Safer - ACI centrifugal blowers operate on the principle of high velocity, low pressure air which presents no danger to operators.
Provide a total solution specifically to the customer application
Air knives efficiently and effectively remove liquids, control the thickness of liquids, dry liquid coatings, remove foreign particles, cool product surfaces or create a hold down force to assist in the mechanical bonding of materials to the surface.  In addition anti-static bars can also be fitted to the air stream to neutralise static electricity charge on some surfaces. Air knives are also used as the first step in a recycling process to separate lighter or smaller particles from other components.
Although compressed plant air are used in a wide variety of industrial applications, blower-powered air knives are proven to reduce the energy usage versus compressed air knives by 75-90% for the majority of applications. In fact compressed air is at it's least efficient when used for air knives discharging into free air, and the efficiency improvement over compressed air is easily justified with the electrical power cost savings.
For more info click here