The removal of the residual moisture film from insulated wire/cable and extruded products has been difficult to achieve effectively and consistently.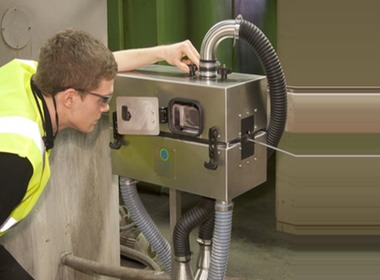 ACI's new 'LINE-Dry' System solves this problem whilst also saving energy and reducing running costs when compared to compressed air nozzle arrangements and other existing blower-driven devices.
When compared to compressed air systems up to 10 fold energy savings can be achieved which potentially equates to savings of £1000s per annum.
The blower supplied is ACI's variable speed 'Multi-Stage' unit (Standard 2.3kW, 240V, 3Ph unit. 110V supply available) controlled via a speed controller. This gives flexibility to accommodate different products and line speeds.
Two drying head options are available, one with the dryer heads enclosed to contain displaced moisture and the other is an open unit.
The supplied blower unit is mounted on legs and enclosed in an ABS plastic enclosure which prevents moisture ingress.
Air is delivered at up to 2.8psi (80in. SWG) at speeds of 8,800m/min (28,900ft/min) typically at 80 deg.C
FREE DEMOS / Customer Site Surveys available to UK based companies.  For all other territories please contact your nearest Distributor.
For more information click here.